Video Surveillance for the Healthcare Industry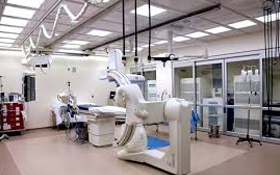 Carlson Communications has a strong background in delivering powerful security camera systems and recording solutions to customers within the healthcare industry, including clinics, hospitals, private practices, and pharmacies. As well-established security integrators, we are well aware of the security threats common to the industry and build systems that help protect against theft, dishonest employees, liability suits, and vandalism.
Carlson Communications systems are just one component of what we provide — our services incorporate advanced project consulting, wireless network design, site security evaluations, installation support, and configuration. We will work with you from the beginning to ensure your video surveillance system is specifically tailored to your healthcare organization.
Some of the benefits that video surveillance provides include:
Keeps patients' records and identities safe
Ensures staff are meeting health and safety standards
Allows for remote monitoring from a smartphone or tablet
Prevents intruders from gaining access to restricted areas
Deters vandalism and other criminal acts
Increases safety for patients and staff
Call now to speak with one of our expert healthcare security integrators