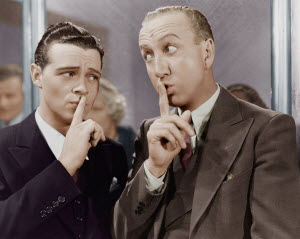 Transparency in corporate America might be overrated—especially when it comes to companies' business phone service. Of course, everyone still wants the companies they do business with to be honest and aboveboard. But when it comes to the details of where their workers are when they take calls, some things might be better left unsaid. And through the magic of Voice over Internet Protocol (VoIP), that's an easy thing to do, as companies and workers can now route calls in ways that run rings around the old-style hardwired PBX closets.
Secret #1—What the Employees are Wearing
"I love the being able to access  from any phone or computer anywhere and it's still me 'at the office'—even from home, in my PJs!," says a staffing services manager who's an 8×8 power user.
Secret #2—They're Not in the Office.
Many companies now allow some—or even a lot—of telecommuting time.
"The thing I love the most about the 8×8 services, is the variety of options on using the phone," says Sara Roach, who uses 8×8's VoIP phone service, Virtual Office. "I can use the phone in my office. I can take the phone home, plug it into my internet, and nobody will even know that I'm working from home. And of course, I have the option of utilizing the phone through a computer. It's great!"
Rosalie Daniels, owner of Remax Tri-County, also appreciates the way 8×8's Follow-Me service makes her organization look unified, even when agents are showing houses, handling paperwork, or on the phone with clients. "With 8×8, we can route calls right away—to the agent's home, cell phone or computer. The caller has no idea that the agent is not in the office," she says. "The service is absolutely seamless, and lets us handle incoming calls much more efficiently."
Secret #3—They're not all in the same state.
Sometimes, companies use VoIP to help tie together offices that are widely separated, to make it look like one big office.
"We have three small offices in New York, Salt Lake City and Santa Monica," says Raju Shah, managing director at Vectra, a Virtual Office user. "Finally, we have a communications system that easily and inexpensively combines all our offices with advance functionality. Our telephone system is now better than most large companies. We can work from home and no one knows. What can I say? It has improved our lives!"
Secret #4—They're on their own smartphones, not the work number.
By combining call routing and managing how "presence" is displayed to callers, it's possible for workers to still be reachable on their personal smartphones—without having to give out their private numbers. Incoming calls go to the work number, which forwards to employees' cell phones. Callers with caller ID still see only the business number.
Trish Lawver, is a bookkeeper for Central Valley Broadband, a family business where employees work from different locations.
"The 8×8 system allows each employee to receive calls on a smartphones, at a desks or on the computer, even while on vacation," says Lawver.  "The customers have no idea where you are, always seeing the callback number for the company. The 8×8 system is affordable, flexible and works great for our needs."
Many people involved in legal and medical professions use this feature heavily, to protect their clients' privacy—and their own.
"The thing I love most about VoIP is how seamlessly its technology can sync between devices," says David W. Lawler, who works for a legal firm. "I handle a substantial amount of criminal defense cases in my private practice. Every day, I get a number of intakes—potential clients—and I can call back from my 8×8 iPhone app [VoIP-enabled]. The number shows up as my office, so the potential client does not have my personal cell phone." And if the call is missed, it will just ring back the office where a proper intake is done. That saves me valuable time and protects my privacy."
Contact Carlson Communications Corp and fill up our online form at www.carlsoncommcorp.com/CONTACT US